If you are looking for an app that helps you to stream and watch your favorite streamers then you have to check out Rooter. Rooter is an Indian app that provides a platform for upcoming streamers and free streams.
Rooter app which is developed by Rooter Sports Pvt Ltd, which is a safe platform which allows you to connect with other gaming fanatics all around the world. Only people over the age of 12 can download this app and stream on it. It also has strict guidelines against online bullying, abuse and sensitive content. The rooter app is a free app and allows you to sign up on this platform for free as well with the help of your phone number. It allows you to watch and stream game plays, speed runs and much more.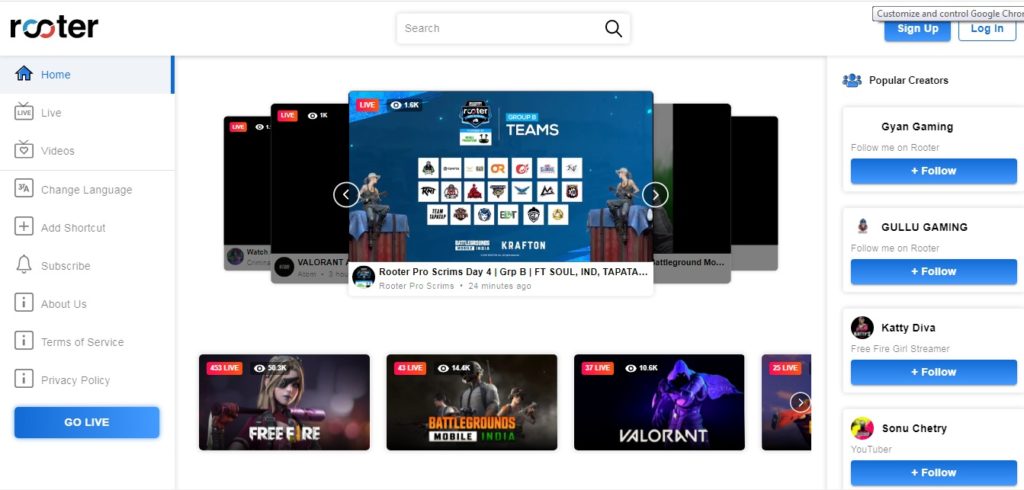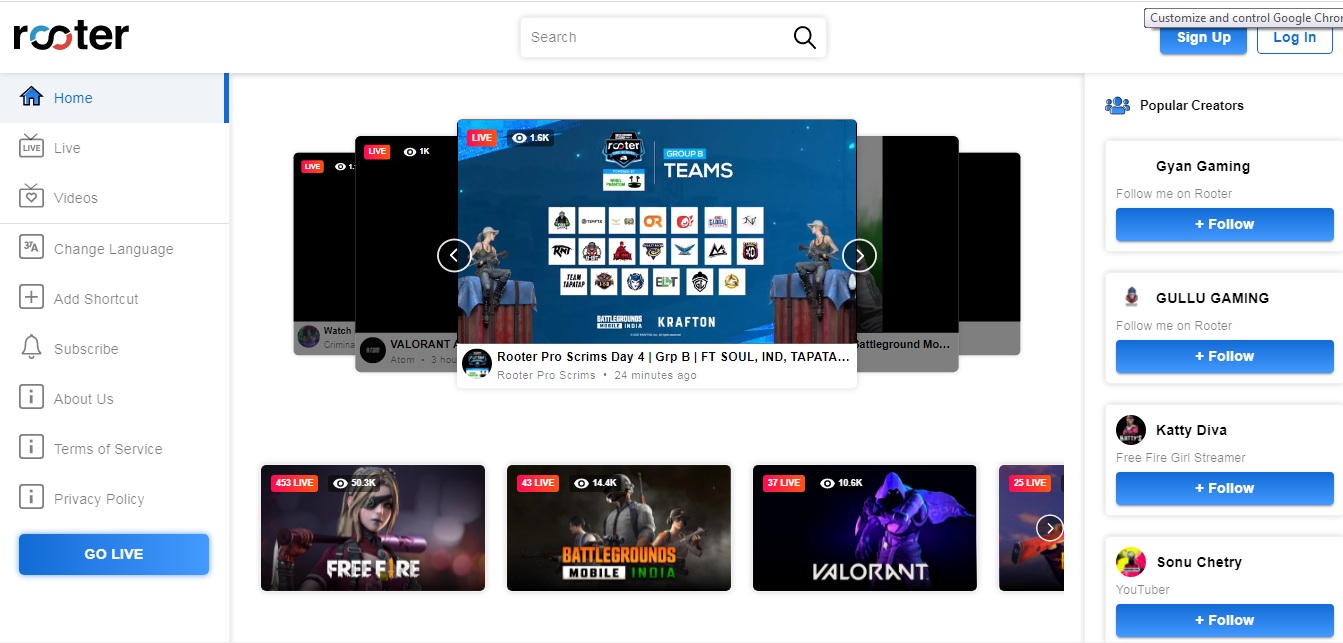 There are many benefits and features to this app, you can earn coins through streaming and creating a fan base. You can convert these points, which are also called coins, diamonds and coupons, into real time cash in paytm or can be transferred directly into your account. While streaming you can do giveaways which will encourage more people to join your live sessions. There are special game plays including various streamers once in awhile which are always fun to watch and fun to do. Some of the streamers on this app is:
Gyan Gaming
GODPraveenYT
Casper
Mizo
Meow
Princess
PVS Gaming
Zishu
There are more than 50k streamers on this platform since it was launched and the app has been voted as India's number 1 app for esports and live streaming in just 6 months with competitors like Cricbuzz, Cricinfo and other gaming apps. Rooter app mainly has mobile games but also promotes pc games as well. Some of the famous games on this platform are:
Free Fire
Valorant
Battlegrounds Mobile India/ PUBG
Chess
Call Of Duty (Mobile)
MINECRAFT
Real Cricket 19
Grand Theft Auto (GTA)
When it comes to the interface of this application its very user friendly and easy to understand. There 5+ languages on this app, so you can switch to the language of your preference. Among many, some of the languages that they provide are:
English
Hindi
Marati
Tamil
Malayalam
Kannada
Telugu
Gujarati
While watching live stream, recommendations of similar lives can be seen when you scroll down. You can also see fan rankings of the streamers as well as upload your own videos on to the platform. Moreover you can create groups to send audio messages to or play multiplayer games.
Rooter App Updates and Version.
The rooter app can be downloaded on your mobile for streaming or can be downloaded on pc as well. This app is available on both Android and iOS and can be downloaded from play store. The current version available for this app is 6.2.0 and this update has made great progress to the platforms but it also has some bugs to be fixed according to the reviews given on play store.
"This app is best for gaming ppayer like free fire. It has instant payment. It's too good. Thank you." – Deepak Kumar
"The app is real….. it also gives us diamonds…. but the problem is if we go to complete any task… we have to unlock or reveal it…. just remove that unlock pattern…. and also one daily task is to watch live stream for 25 minutes….. I watch it an hour then also it shows that 0 minutes you seen….. and can't give the coins…. plz improve it." – Mahi Khanzod
"The app was working fine but after the recent update we have to unlock tasks which is very annoying as it would again and again show to unlock them. Secondly, when we complete offers like downloading apps and registering on them I never get coins for that. I have downloaded like 50 times still no coins are give to me. So please fix all these isssues team." – Krish Agnihotri
"The Glitch of the broadcast is now fixed that's why I am giving 5 stars it's a really lovely app thank you so much rooter team." – free fire UPDATER
Rooter has its own website which can be used on PC or laptop to stream. They also have other socials like